The HERITY International Certification
HERITY, dall'unione delle due parole inglesi Heritage e Quality, è l'Organizzazione mondiale per la Certificazione di Qualità della Gestione del Patrimonio Culturale.
Partendo da criteri scientificamente accettati ma in modo facilmente comprensibile, HERITY:
1) fornisce al pubblico una informazione che permette di decidere di visitare o meno un bene culturale;
2) incoraggia i proprietari e i gestori dei beni a valorizzare e conservare meglio il patrimonio di cui sono responsabili.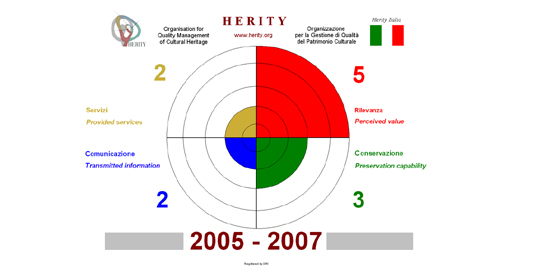 On September 29, 2009 the International Committee for Quality Heritage Management, awarded of the HERITY certification the first five museums in the City of Rome, and illustrated the achievements of:
 - Musei Capitolini 
- Centrale Montemartini 
- Casina delle Civette 
- Museo Napoleonico 
- Planetario 
 
In 2012, also the following museums were awarded:
- Museo dell'Ara Pacis
- Mercati di Traiano - Museo dei Fori Imperiali
- Museo di Roma in Trastevere
- Museo di Scultura Antica Giovanni Barracco
- Museo della Civiltà Romana
- Museo delle Mura
HERITY, from the union of two English words Heritage and Quality, is the World Organisation for the Certification of Quality Management of Cultural Heritage. The President of HERITY International is Cardinal Francesco Marchisano.
 HERITY is present in different countries, like Italy, Spain, Brazil, Portugal, Sweden, United Kingdom, Lithuania, Czech Republic, France, Turkey, UAE, and is spreading rapidly.
Based on scientifically accepted criteria, HERITY, in an easily understandable way:
 1) provides information to allow the public to decide whether or not to visit a cultural heritage site;
 2) encourages owners and managers of cultural heritage sites to foster appreciation for improve preservation of the cultural heritage they manage.
At the entrance to every museum, monument, outdoor site, library, archive, public or private, the HERITY symbol, similar to a target, shows clearly and in advance to the visitor the level reached on a scale from 1 to 5, for the current year, referred to 4 criteria:
 a) perception of cultural significance (VALUE);
 b) state of maintenance, preservation and restoration (CONSERVATION);
 c) information provided to the visitor (COMMUNICATION);
 d) quality of reception and services offered (SERVICES).
HERITY attributes its recognition for a period of three years to cultural heritage open to the public and a system for monitoring and re-evaluation at the end of three-years period verifies the level reached and adjusts the assessment.
 HERITY is for the public, with the public and it needs the public. Indeed, the results are also obtained through the visitor's opinion, as well as the point of view of managers of these places and external evaluators.
What are the advantages
 Innovation, simplicity, updating, excellence, winning rationale, independent judgement:
 1) the HERITY target is an improvement of previous classifications based on only one criterion. And because it is visual, it is easily recognised at an international level;
 2) HERITY classification is periodically reviewed and is neither "fixed" or unchangeable as in other previous systems;
 3) HERITY recognition encourages continuous improvement of criteria b), c) and d) listed above;
 4) awarding of HERITY certification stimulates competitiveness in a sector that has always been "blurred";
 5) the evaluation system allows for independent information similar to other International standards.
For information
 HERITY International Headquarters c/o DRI - Ente Interregionale
 V. E. Filiberto 17 - 00185 - Roma
 www.herity.it
 info@herity.it
 tel./fax 06.70497920