Throne room (second carriage)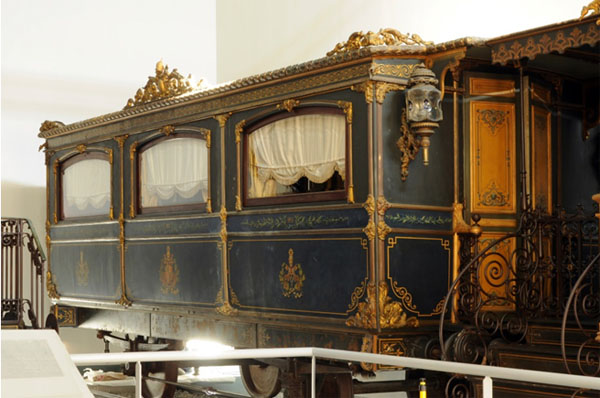 The second carriage, linked to the first by an open platform enclosed by splendid ironwork railings and gates, holds the Throne Room with a small adjoining room for the private use of the pope.
The interior features the papal colours of white and golden yellow: the gold and silver thread woven through the wall hangings, upholstery of the large sofas and throne, and curtains contribute to the sensation of opulence. 
The throne is surmounted by the papal coat of arms while the gilded frames of the sofas bear the coat of arms of the Holy See.
Masterpieces of the hall
The hall
Giovanni Maria Mastai Ferretti, who became pope on 16 June 1846 taking the name Pius IX, was fully aware of the key role that railways would play in the economic, social and political development of European nations in the immediate future. In 1846, soon after his election, he gave orders for the construction of a series of railways linking Rome to the leading cities of the Papal States.
You may also be interested in