Tondi painted by Jean Léon Gérôme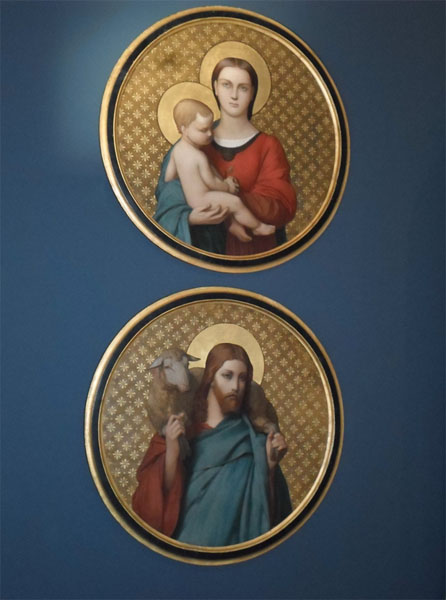 Material and technique:
inv. MR 460 a, The Good Shepherd, 1856-1858, oil on iron alloy inv. MR 460 b, Virgin with Child, 1856-1858, oil on iron alloy
The two tondi were hung in the main compartment of the "Chapel" carriage, and were therefore intended for the personal devotions of the pope during his journeys on the papal train.
Jean Léon Gérôme is also responsible for the paintings decorating the "Chapel" ceiling with: Pius IX Blessing a Port with Steam Ships, Pius IX Blessing a Railway, and Religion Enthroned Between Sts Paul and Peter, God the Father Supported by Angels. The paintings are inspired by Purismo, the 19th-century movement inspired by the masterpieces of Renaissance art.
Masterpieces of the hall
The hall
Giovanni Maria Mastai Ferretti, who became pope on 16 June 1846 taking the name Pius IX, was fully aware of the key role that railways would play in the economic, social and political development of European nations in the immediate future. In 1846, soon after his election, he gave orders for the construction of a series of railways linking Rome to the leading cities of the Papal States.
You may also be interested in