The Power Plant
The Centrale Montemartini was the first public electricity generating plant in Rome.
Built on Via Ostiense, between the Mercati Generali and the left bank of the Tiber, it was inaugurated in 1912 at the behest of Mayor Ernesto Nathan (1845-1921).
In 1913 the plant was named in memory of Giovanni Montemartini, Councillor for Technology in the Nathan Junta, who died during a City Council meeting.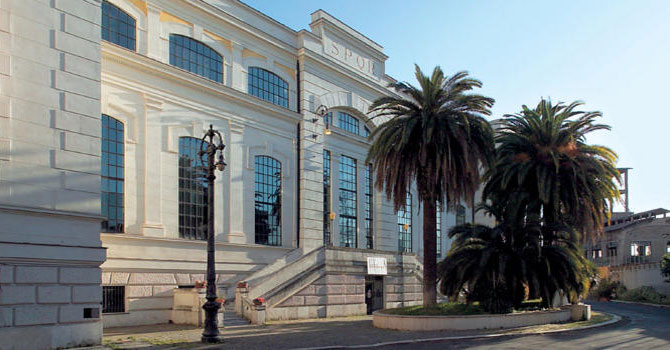 The construction of a public power plant had been set in motion following the results of the September 20, 1909 Popular Referendum, in which citizens had given their assent to the municipalization of Rome's public utilities. The result of the Referendum also led to the birth of AEM, the Azienda Elettrica Municipale, today's Acea.
The area chosen for the construction of the power plant stands on land located between the Via Ostiense and the bank of the Tiber, thus suitable for a continuous supply of water, necessary for the operation of the machines. It was also easily accessible by rail and road and was located outside the daziale belt and was therefore not subject to fuel taxes.
Inside the Montemartini Power Station operated side by side steam turbines with their associated boilers, and diesel engines: the mixed production system made it possible to respond adequately to the city's varying electricity consumption demand needs, as the turbines ensured continuous service, while the diesels were started at peak consumption times.
The power plant was decommissioned in the mid-1960s.
In the late 1980s, Acea decided to undertake a complete renovation of the historic plant: the Engine Room and the new Boiler Room, with its underlying rooms, were transformed into an Art Center and multimedia center, while the remaining rooms became offices, laboratories and warehouses.
To learn more about the history of the Centrale Montemartini before its conversion to a museum, you can consult online > the Acea historical archives, full of photos and historical documents.