The Power Plant
The Centrale Montemartini was the first public power plant of Rome. It opened at the beginning of the 1900s on the Via Ostiense, between the General Markets and the left bank of the Tiber.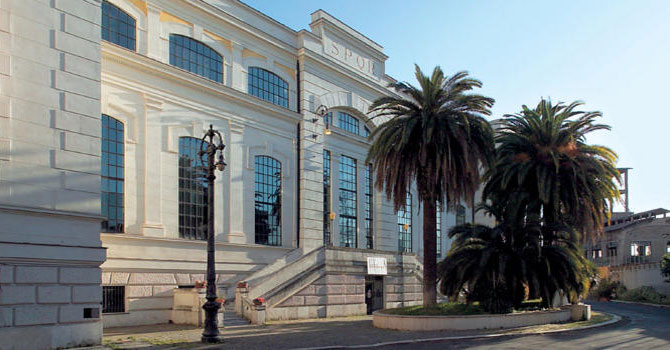 Its history is intertwined with that of the Municipal Electric Company, now Acea, which was set up in 1909, as a result of a referendum by which the citizens of Rome voted in favour of the municipalization of public services (electricity and transport).
The power plant was inaugurated in 1912 by the mayor Ernesto Nathan (1845-1921) and already the following year it was dedicated to the memory of the Councilor for Technology, Professor Giovanni Montemartini, who died during a City Council session.
The area chosen for the construction of the power station is located between Via Ostiense and the banks of the Tiber, therefore it is suitable for a continuous supply of water, necessary for the operation of the machines. It was also easily accessible by rail and road and, being located outside the city walls, it wasn't subject to fuel taxes.
Inside, there were steam turbines (not included in the original project) with their boilers and diesel engines, all supplied by Franco Tosi firm of Legnano. The mixed production system allowed to meet adequately the different needs of the city's electricity consumption demand: the turbines guaranteed continuous service; the diesel engines were started during the hours of peak consumption.
At the beginning of the 1930s, the engine room was completely renovated; on 21st April 1933, two new colossal Tosi 7,500 Hp diesel engines were inaugurated, replacing the previous less powerful ones.
At the end of the 1930s, new works were being carried out: preparations were underway for the Universal Exhibition of Rome in 1942, and it was, therefore, necessary to provide for the electricity consumption of the exhibition district that was being erected in the south of the capital. It was therefore decided to install a new steam turbine capable of developing a power of 20,000 Kw, equipped with two Tosi-Steinmüller boilers at 45 atm for which it was necessary to build a new Boiler room at the site of Boiler Room no. 1.
During the war, the plant escaped Allied bombardment and was the only one the city could count on in the period immediately after the liberation.
No longer being productively and economically useful, the plant was decommissioned in the mid-1960s. Some rooms of the complex were used as warehouses, others abandoned. It was also suggested the plant should be completely demolished. Fortunately, at the end of the 80s, the management of ACEA decided to start a complete renovation of the historic plant: the Engine Room and the new Boiler Room, with its underlying environments, were transformed into an Art Centre and multimedia centre, while the remaining environments became offices, laboratories, and warehouses.