celeste.prize.2012
Immagine: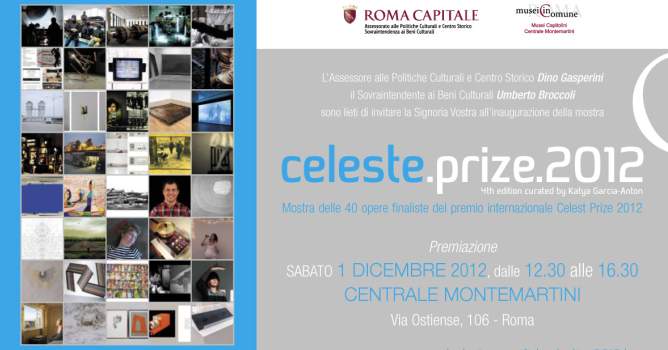 01/12 - 09/12/2012
Centrale Montemartini
The fourth edition of the International Celeste Prize 2012 is hosted, from December 1 untl December 9, 2012, in the extraordinary space of the Centrale Montemartini in Rome.
The Celeste International Prize presents the work of 40 artists divided in four sections: painting and graphics, photography and digital graphics, animation and video, installations and live media.
Finalists Painting & Graphics Prize
Katarina Blazova – Beckets and Godots
Jessie Brennan – The Cut
Valentina Cirami – senza titolo
Jessica Dreyfus – Machine of the Body
Sanders Mira – Itineraria #1
Catarina Rosa – Seven Steps
Hubard Severine – antistatic
Amruta Shah - Detergents/Cleaners
Antoinette Von Saurma – Sendai in the snow
Boedi Widjaja – Ian, Rem, Kal
Finalists Photography & Digital Graphics Prize
Emili Bermùdez – Scape
David Birkin – Pietà
Giovanni Guadagnoli – Landscape – Ipotesi 35
Oscar Hugal – As Orange As An Orange
Lorenzo Mini – "Paesaggio italiano"
Gabriele Rossi – Elf
SHILO – The Night
Erin Solomons – "For Cindi and Ralph (the act)"
Timotheus Tomicek – look and see
Jacqueline Tune – What mother ses 2, England Oct 2011
Finalists Video & Animation Prize
Daniel Cerrejòn – 5min Smile
Sophie Clements – There, After
Dina Danish – Type Sonata
Kara Hearn – One thing After Another
Marit Liesbeth – One Way of Going
Trish Morrissey – Ave Maria Karaoke
Cristina Nunez – Someone to Love
Sabrina Osborne – Look Both Ways
Mario Pfeifer – A FORMAL FILM IN NINE EPISODES, PROLOGUE & EPILOGUE
Swoon – Disintegration Nation
Finalists Live Media, Installation, Sculpture & Performance Prize
Pii Anttila - Situations Wanted – Applying for a Job in the Underground Economy
ASYNTHOME – Asynthome (Transforma/Yro)
Viktor Jan – BEATOVEN
Martin Romeo – Built it
Nico Varchausky – SPEAKER PERFOMING KIOSK
Jaime De la Jara – Curtains
Mikhail Karikis - SeaWomen
Bharti Parmar – SHAG
Saad Qureshi – Quicken
See-Saw Performance Group - Rodin Reflections (in 4 actions)
Information
Opening hours
Awards ceremony: Saturday, 1 December 2012, h.12:30-16:30 (free of charge for everyone):
Exhibition:
1-9 December 2012:
Tuesday-Sunday: 9:00 - 19:00;
Last admission 1/2 hour before closing time;
Monday: closed.
For Museums in Music 2012, Centrale Montemartini is open and free of charge from 20:00 to 2:00 (last admission 1:00) on Saturday, 1 December 2012.
Entrance ticket
Free admission to the exhibition when purchasing the ticket to Centrale Montemartini.
For Museums in Music 2012, Centrale Montemartini is open and free of charge from 20:00 to 2:00 (last admission 1:00) on Saturday, 1 December 2012.
Information
Info: tel. +39 060608 (daily from 9.00 am to 9.00 pm)
Type
Exhibition|Applied Arts, Exhibition|Photography
Organization
Production and general organization: Glocal Project Consulting Promoted by: Roma Capitale, Assessorato alle Politiche Culturali e Centro storico – Sovraintendenza ai Beni Culturali
Sponsored by
Acea
Banche Tesoriere del Comune di Roma: BNL – Gruppo BNP Paribas, UniCredit Banca di Roma, Monte dei Paschi di Siena
Acqua Claudia
Finmeccanica
Il Gioco del Lotto
With technical contributions from
Atac
La Repubblica
Museum Service: Zètema Progetto Cultura
Curator
Katya Garcia Antón
Eventi correlati
Currently there are no ongoing activities.
There are no planned activities.