Montemartini Blue Note 2011
Immagine: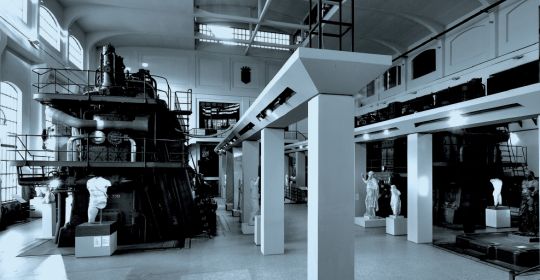 06/05 - 04/06/2011
Centrale Montemartini
"Montemartini Blue Note" is back! Some of the leading figures in contempoary jazz will perform on an unusual and fascinating stage, amidst the machinery of the former power station and the masterpieces of ancient art from the Capitoline Museums.
From May 6 through June 4, 2011, on Fridays and Saturdays at 8.00 and 10.00 pm, Enzo Pietropaoli Quartet, Maria Pia De Vito, Lenny White, Rosario Bonaccorso T.N.T. Quartet, Rita Marcotulli and Luciano Biondini live at teh Centrale Montemartini.
Art Direction: Federica Gentile.
Information
Opening hours
Friday and Saturday: 8.00 pm and 10.00 pm
Entrance ticket
Tickets: € 7,00
May 14, 2011: free admission on a first come first seated basis (subject to availability) for the Night of Museums 2011.
Tickets can be purchased from May 3, 2011 at the ticket office of the Museum, from Tuesday to Sunday, 9.00 am - 6.30 pm, and on the day of the event until 10.00 pm. Closed on Monday.
Information
Info: tel. +39 060608 (daily from 9.00 am to 9.00 pm)
Other information
Program and dates are subject to change.
Organization
Roma Capitale Assessorato alle Politiche Culturali e Centro Storico - Sovraintendenza ai Beni Culturali - Musei in Comune Roma - Zètema Progetto Cultura - Rai Nuovi Media
Sponsored by
Banche Tesoriere del Comune di Roma: BNL – Gruppo BNP Paribas, UniCredit - Banca di Roma, Banca Monte dei Paschi di Siena - Il Gioco del Lotto - Finmeccanica - Vodafone
With technical contributions from
Atac - Agenzia Mobilità Roma - I Granai - La Repubblica
Eventi correlati
Currently there are no ongoing activities.
There are no planned activities.
There are no archived activities.