XI Tavola Rotonda Internazionale sulla Policromia
Immagine: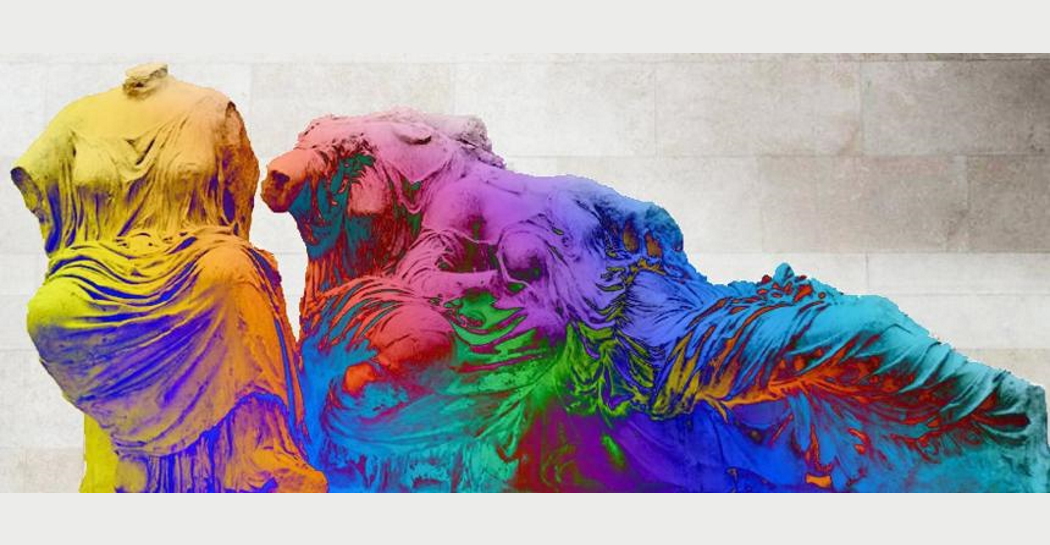 09/11 - 12/11/2022
Centrale Montemartini
A Novembre 2022 il Museo Nazionale Romano e i Musei Capitolini (Capitolini e Centrale Montemartini) ospitano una Tavola Rotonda Internazionale dedicata al tema della policromia nella scultura e nell'architettura antiche.
L'appuntamento si colloca in un ciclo di incontri internazionali iniziato nel 2009, che dal 2016 ha assunto cadenza biennale. Gli incontri rappresentano un'eccellente opportunità per specialisti provenienti da un ampio ventaglio di discipline (archeologi, storici dell'architettura, scienziati, esperti di conservazione, professionisti dei musei e delle discipline umanistiche) per confrontarsi sui risultati delle loro più recenti ricerche in un contesto multidisciplinare aperto e stimolante.
Programma
Il formato del programma è ibrido, in presenza e online.
Segue il modello stabilito dalla X Tavola Rotonda (Berlino 2020), con due sezioni principali, dedicate rispettivamente a un tema e alle Ricerche Recenti.
Il tema è "La materialità della policromia".
L'obiettivo è raggiungere un equilibrio rappresentativo tra i contributi sugli aspetti archeologici e quelli incentrati sulle questioni di conservazione.
Programma Sabato 12 novembre - Centrale Montemartini
09.30 - 10.30 Poster session
10.30 - 11.00 Final discussion of the 11th International Round Table on Polychromy in Ancient Sculpture and Architecture
11.00 - 13.00 Visit to Centrale Montemartini
15.00 - 17.00 Visit to Musei Capitolini, Villa Caffarelli, exhibition "Domiziano imperatore. Odio e amore"
Poster session
1 E. Rémond, Restoring patinas and tartars in Musée Napoléon's workshop of sculptures
2 K.U. Mann, Layered painting. How to analyse and illustrate this ancient technique
3 A.C. Fulger, I colori del Tropaeum Traiani
4 S. Pedone, P.A. Andreuccetti, Mediterranean polychromies: for a corpus of colored sculpture between East and West
5 L. Festa, D. Fodaro, S. Pannuzi, Polychrome sculpture, conservation and communication: a critical approach
6 C. Colombi, A. Mangone, I.M. Muntoni, New data on pigments and techniques of Apulian tomb painting
7 E. Doxiadis, Arguments in support of the cera punica painting technique for the colouring of Classical and Hellenistic Greek statues made from white marble
8 F. Gollo, Visualize / Communicate
9 D. Camardo, E. Canna, L. Castelli, S. Grassini, A. Laino, M. Notomista, F. Pozzi, C. Ruberto, La policromia del controsoffitto del Salone dei Marmi della Casa del Rilievo di Telefo ad Ercolano
10 M. Benfatti, White as colour code for otherness. Understanding cultural meaning through visual impact
11 C. Ballestrazzi, The colours of Roman gems. A "semantic system" of precious stones
12 C. Barandoni, Eumachia, sacerdotessa di Venere, dedica a [una] Concordia
13 C. Giusti, M. Salvadori, Problemi di autenticazione delle ceramiche policrome provenienti da collezioni private: il caso della Collezione Marchetti dell'Università di Padova
14 P. Piccione, F. Floridi, Sotto una nuova luce: un riesame dei colori delle arule delle collezioni capitoline
15 B. Nobiloni, G. Bartolozzi, R. Iannaccone, S. Lenzi, D. Magrini, "Si conservano assai traccie dell'antica doratura". Sarcofago con imago clipeata della defunta alla Centrale Montemartini. Un esempio di doratura del III secolo d. C.
16 S. Guglielmi, G. Bartolozzi, R. Iannaccone, D. Magrini, Statue policrome dalla necropoli della via Tiburtina: alcuni esemplari inediti dalle collezioni dei Musei Capitolini
Eventi correlati
Currently there are no ongoing activities.
There are no planned activities.
There are no archived activities.