Boaz Arad, The Nazi Hunters Room
Immagine: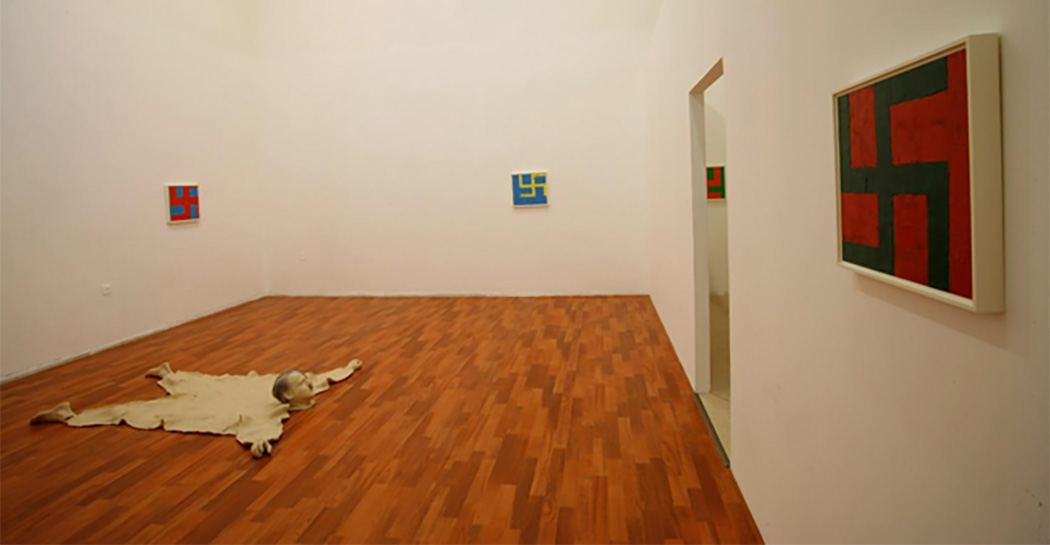 18/01 - 12/02/2023
Centrale Montemartini
Installation as part of the Zakhor/Ricorda project.
At the exhibition VoozVooz at the Center for Contemporary Art in Tel Aviv in 2007, Boaz Arad presented The Nazi Hunters Room, an installation displaying a silicone rug with the features of Adolf Hitler.
Like Maurizio Cattelan before him (e.g. Him, 2001), with this work Arad aimed to push the boundaries of what was considered beautiful and desirable in art. Like a skinned hunter's trophy, Hitler, or what remains of him, appears in a defenceless, vulnerable position. Arad thus managed to deal with the theme of the Shoah and of human evil in a provocative way.
Boaz Arad (Tel Aviv 1956-2018). A painter, sculptor, photographer, and video artist, he taught at the HaMidrasha School of Art – Beit Berl College and at the Bezalel Academy of Arts and Design in Jerusalem. Drawing on the concepts of memory and identity, his works are pervaded by a vein of irony and irreverence that helps the viewer elaborate the drama of the issues dealt with. He took part in numerous national and international shows, and his works are exhibited by such leading Israeli museums as: Tel Aviv Museum of Art (2017); Petach Tikva Museum (2013); The Israel Museum Jerusalem (2008); The Israeli Center for Digital Art in Holon (2007); and Herzliya Museum (2000). The honours he received include: Mendel and Eva Pundik Prize for Israeli Art, Tel Aviv Museum of Art (2016); The Petach Tikva Museum of Art Prize (2006); and the Prize to Encourage Creativity, Israeli Ministry of Science, Culture and Sport (2003). His works are included in such public and private collections as: Centre Georges-Pompidou, Paris; The Jewish Museum, New York; The Israel Museum, Jerusalem; Haifa Museum of Art; and Tel Aviv Museum of Art.
Information
Opening hours
January 18 to February 12, 2023
Tuesday through Sunday from 9 to 19
Last admission one hour before closing
Eventi correlati
Currently there are no ongoing activities.
There are no planned activities.
There are no archived activities.